Cerrar
Mejor Tarifa Garantizada
Reserve su estancia con todo incluido
Ahora usted es parte del club Pueblo Bonito Insider. ¡Disfrute de los descuentos especiales!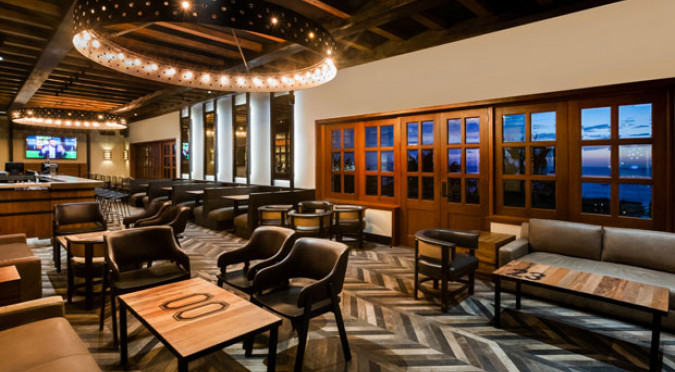 Destacado: The After at Quivira
Durante más de un año, los huéspedes de Pueblo Bonito han disfrutado de los mejores espacios gastronómicos semiformales de Los Cabos en The Market, un práctico y ecléctico emporio de delicias culinarias. Este mes nos complace anunciar que el nuevo y esperado vecino de The Market finalmente ha abierto sus puertas. The After at Quivira es un elegante bar deportivo del siglo XXI, diseñado también por la reconocida firma de arquitectura Jeffrey Beers International para brindarle un lugar elegante y acogedor que le permita disfrutar de los eventos deportivos más importantes del año. Con 10 televisiones de pantalla plana de gran tamaño y seis antenas satelitales, The After lo entretendrá con transmisiones de alta definición y los mejores alimentos y bebidas típicas de un bar en la Península de Baja California: crujientes ensaladas, generoso sándwiches, deliciosos platillos, 100 licores destilados, 16 cervezas artesanales de barril únicas y una lista de cócteles de autor diseñados especialmente por nuestros expertos en mixología. The After está disponible para todas las edades hasta las 9:00 P.M., y para los huéspedes mayores de 18 años de 9:00 P.M. a 2:00 A.M. A partir de las 11:00 P.M., la mayoría de las noches, The After ameniza con música para fiestas temáticas especiales y un DJ interno. Los huéspedes pueden llamar con anticipación para reservar el espacio privado para eventos y funciones especiales.
¡Reserve su escapada a Pueblo Bonito Resorts y conozca nuestro nuevo bar deportivo de primera mano!
.