Pueblo Bonito Mazatlán
Sólo Habitación 800-966-0606
Hotel + Avión 800-099-0214
Contáctenos
Visite nuestras Otras propiedades
Cerrar
Mejor Tarifa Garantizada
Reserve su estancia con todo incluido
|
You have unlocked your Insider Rates! Enjoy your savings!
Reuniones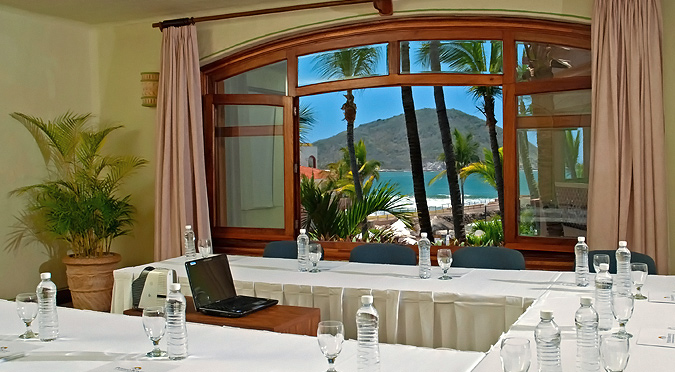 Beneficios espectaculares
Say, "I do," in Mazatlán with our our
weddings package
offer featuring a bonus credit, flexible policies, and other fantastic perks for the bride and groom.
Solicitud De Propuesta
En Mazatlán, reuniones de negocios y más
Brochure y Planos
Nuestro resort de servicio completo brinda amenidades y recintos propios para reuniones de negocios, eventos sociales, reuniones familiares y bodas. Ofrecemos una extraordinaria selección de lugares para celebrar ese evento especial; desde nuestros hermosos jardines, terrazas en la alberca, restaurantes y reuniones bajo techo y banquetes con capacidad para 80 personas. Muchas de nuestras instalaciones cuentan con espectaculares vistas al mar.
Pueblo Bonito Mazatlán también ofrece servicios de catering completos, equipos y sistemas audiovisuales modernos, servicios de traducción simultánea, puertos para teléfonos, acceso a Internet de alta velocidad y un centro de negocios completo. Nuestros elegantes espacios para reuniones incluyen el salón Las Fuentes, con más de 10 m² y la íntima sala Mazatlán, con cerca de 4 m².