Cerrar
Mejor Tarifa Garantizada
Reserve su estancia con todo incluido
You are an Insider now! Enjoy your savings!
Tarifas
Ingrese su cuenta de correo electrónico aquí para acceder a sus tarifas "Insider", disponibles
exclusivamente para los que son parte del club Pueblo Bonito Insiders.
Fitness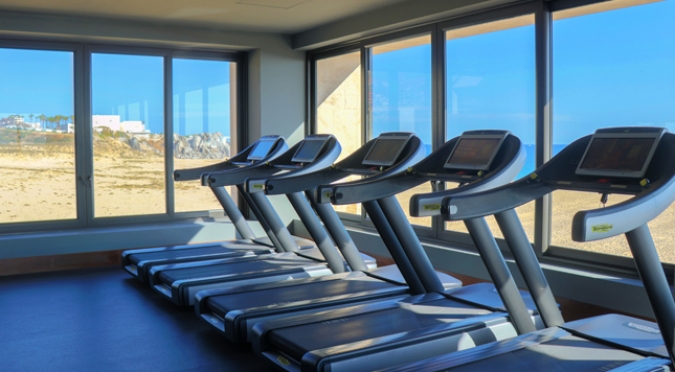 Beneficios espectaculares
Enjoy the tranquility of Armonia Spa with up to $150 credit!
Más información
More Fitness and Fun on Mexico's Sunny Pacific Coast
Highlights
Oceanfront location with sunrise and sunset views
Lighter weight (up to 22 lbs.) and heavy weight dumbbells (up to 48 lbs.)
Treadmill Now Excite+ Run Now 700
Synchro Excite+ 700
Vario Excite+ 700
Recline Excite+ 700
Top Excite 700
Our guests have unlimited use of our beautiful new oceanfront gym, which features state-of-the-art equipment, including weights, treadmills, LifeCycles and elliptical cross trainer machines. Additionally, the Activities Center offers a full schedule of daily activities, including water aerobics, beach walks, hikes, dance lessons, yoga (indoors and on the beach) and other specially designed wellness classes. Guests also have access to our premier tennis facilities and internationally-acclaimed golf course, the Jack Nicklaus Signature Quivira Golf Club.
OUR WIDE RANGE OF CLASSES INCLUDE
- Sunrise beach yoga three times a week
- Personal trainers by appointment
- Thai Boxing
- Pilates